I am delighted to let you know that T'Gallant Winery – Mornington Peninsula –  has recently reopened. It will now be an important feature in our Mornington Peninsula Wine Tours.
Not only that – it has been given a wonderful makeover. I can't wait to start taking our lucky Perfect Day Tour customers there for wine tastings and lunch.
We now have 2 options. Firstly we have upgraded the 'No Frills' offer. This includes Gourmet Pizzas, Chips & Salad.  Now also a glass of wine!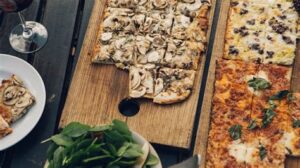 The second T'Gallant  tour option will be included in our Total Value Package. As well as the above offering, you will also be able to choose a delicious entree.
T'Gallant History
The cool climate Main Ridge vineyard was established in 1994, by winemakers Kathleen and Kevin Quealy. Prior to this, the land was used as an orchard. Interestingly, Kathleen and Kevin introduced Pinot Gris /Grigio into Australia.
After selling T'Gallant to Treasury Wine Estates, Kathleen and Kevin established their own little winery and vineyard in Balnarring. The eclectic range on offer at Quealy Winemakers   is awe inspiring. We love visiting them on a fabulous Mornington Peninsula Wine Tour.
T'Gallant has recently been purchased  from Treasury, and has been given a whole new look. Stylish, modern and clean. The menu has been updated as well. Welcome back!
30 years on, T'Gallant continue to lead the way with Pinot 'G'. The T'Gallant range is all about fresh, food-friendly wines with distinctive personalities. Fruit driven Pinot Gris, Grigio and Noir, crisp Rose, sparkling Moscato and Prosecco are just some of the faves. There is now a spritzed can range that has proven most popular.