Just before the Covid 19 shutdown, in late March 2020, I was lucky enough to attend a cellar door tasting at Paringa Estate – Mornington Peninsula.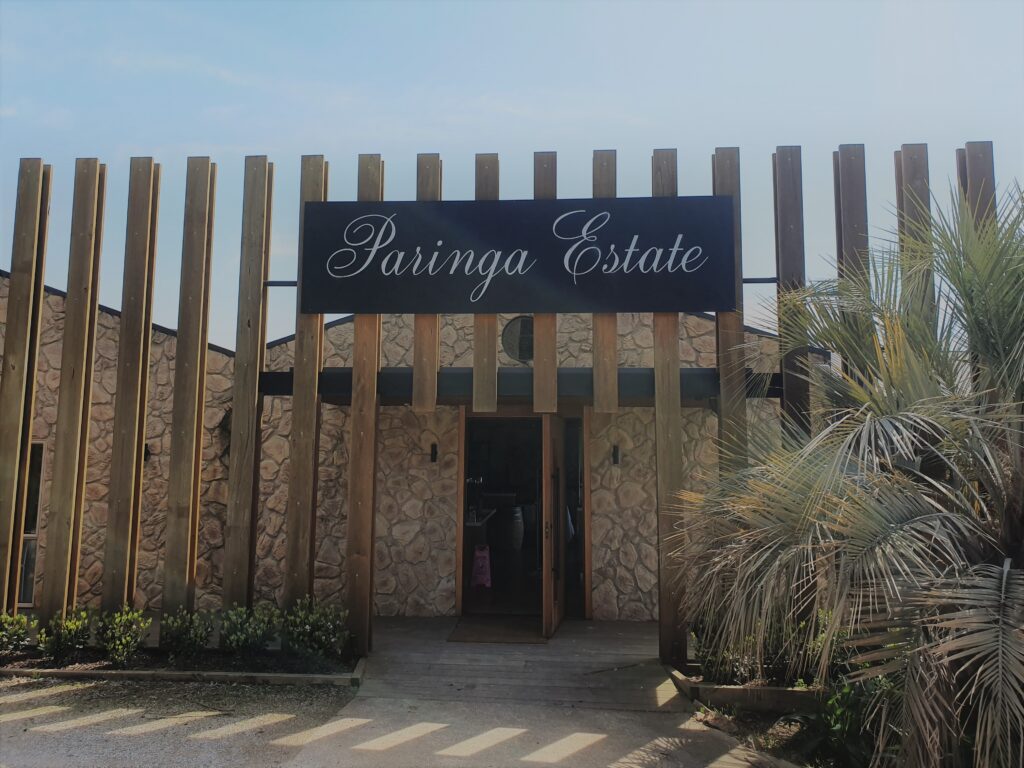 In the latest 2020 Age Good Food Guide – the restaurant was awarded a presigious 'Two Chef's Hats'. If you would like more detailed information on the restaurant, winery and cellar door – check out the link below. The main focus of this post, is a review of the current vintage wines on tasting, as of March 2020.
Paringa Estate was purchased by Lindsay McCall in 1984, when it was a run down apple orchard. Lindsay had no formal qualification as a wine maker. He was a secondary school teacher – who combined his passion for winemaking with his full time teaching duties.
Lindsay's son Jamie, having studied winemaking on the Peninsula, as well vintages in the U.S and Burgundy, became a qualified winemaker in 2012.
Ahead of the 2017 vintage,  Jamie was put in charge of winemaking at Paringa Estate. Growing up as a young boy on the Estate, Jamie is excited to now be following in his father's footsteps as the 'next generation' winemaker.
By the late 1990's, the wines were starting to get acclaim from the wine media. It is now one of the most highly awarded and recognized wineries on the Mornington Peninsula, as well as all of Victoria.
With a vision to serve cuisine that was of equal quality to his fine wines, Lindsay commissioned an intimate on-site restaurant. Overlooking the undulating vines of Paringa Estate – the restaurant and cellar door are cosy and stylish – to match the intimacy of a visit for fine wining & dining. Booking for lunch is essential. The cellar door however, can not take bookings of more than 10, as it can affect the atmosphere and amenity of the nearby dining area.
It may be fair to say that Lindsay is a perfectionist. The winery has been awarded 'Winery of the Year' by James Halliday in the Australian Wine Companion – 2007. ( Lindsay likens this award to being chosen as captain of the Australian cricket team! ) The restaurant has attained 7 consecutive 'chef's hats' in The Age Good Food Guide.
On the northern side of the cellar door / restaurant, there are full size windows overlooking the winery. Nice to see the team hard at work –  as you enjoy the fruits of their labour.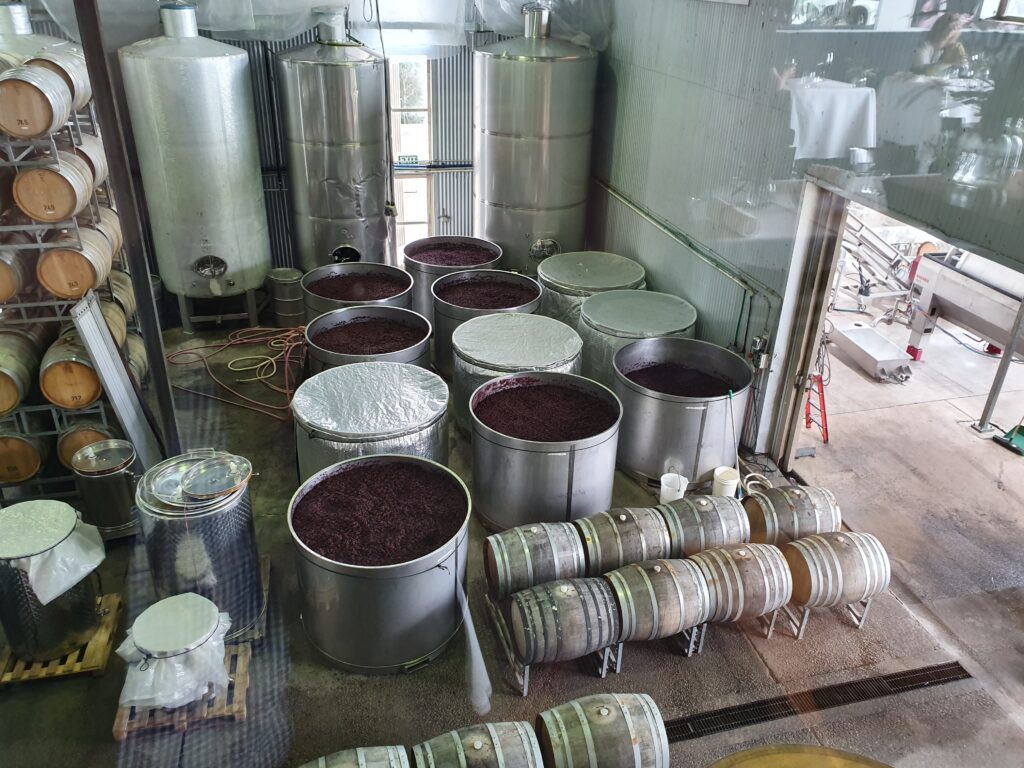 The winery is modern in equipment, yet tiny in comparison to many industrial size wineries. It appears much more  'Burgundian' in style and scale*.
There are 3 ranges of wines available for cellar door tastings at Paringa Estate.
The standard tasting includes an array of wines with grapes sourced from various vineyards throughout the Mornington Peninsula. These are knows a 'Penisula Wines'.
The next level is  the 'Estate' range – all fruit sourced from the Paringa Estate vineyards.
The top of the tree is the 'Single Vineyard' range – very small production from the most expressive estate vineyard sites.
---
 Tasting Notes

---
Estate Riesling – 2018
One of the rarer varieties planted on the Peninsula, this now mature vineyard was planted in the late 1990's, with the first vintage being 2002.
This was a lovely start to the tasting – with classical Riesling notes evident up front. Dry, with stoney/ slatey / mineral notes evident. Lemon and lime notes on the palate – with very fresh mouthwatering acidity. Cellar Door Price – $25.
Estate Pinot Gris – 2019
Mature vines again – first vintage 2002. Really enjoyed this wine – Ripe pear with a satisfying fleshiness on the palate. There's some wild yeast and barrel ferment inputs in the winery – adding to the complexity. On tasting, I thought at the time that this wine represented excellent value – and would be a worthy entry into the Perfect Day Tour's  – Wine of the Month. C.D.P – $25.
Estate Viognier – 2019
A rarity on the Mornington Peninsula, Viognier was once penciled in to be the next 'great white hope', to compete against Chardonnay and N.Z Sauvignon Blanc. Didn't happen.
The reasons Viognier has remained a marginal variety is that, firstly, it can be difficult to pronounce. Another may be that it is hard to grow consistently well. Confusingly for many, it is often blended with Shiraz. All of these teething problems made it hard to get this new brand wine off the ground in Australia. So Pinot Gris/Grigios quickly occupied that segment of the market.
Classical musky notes on the nose. There is also a touch of rosewater and Turkish Delight. A hint of apricot as well. Bright acidity on the finish (Something that Viognier from warmer areas can often struggle to get right). This wine is whole bunch pressed – and then matured in older French oak barrels for 11 months. This wine would be a delight with a modern style Apricot Chicken dish. C.D.P $32.
Peninsula Chardonnay -2018
Fresh, vibrant and racy, subtle fruit notes of  nectarine. Even though this is the entry level Chardonnay – it will build in complexity and richness over the next 5 years or so. C.D.P – $29.
Estate Chardonnay – 2018
Typical of the vintage and region for whites, this wine is still nice and fresh – without any overt oaky notes sticking out. A bit more richness and complexity than the Peninsula Chardonnay. Similarly, it need time to develop more richness and complexity. Bring me a bottle in 10 years. C.D.P – $45.
The Paringa Chardonnay (Single Vineyard) – 2018
Sourced from only 9 rows of the best Chardonnay vineyard – this is the Chardonnay that brings home the bacon. Given much love and expense in the winery – with 35% new French oak, the wine reminds us all of why we should be millionaires, and drink wines like this on a more regular basis.
This exemplary wine was made from vines planted in 1984. The most difficult feat to be achieved by any true fine wine is power and restraint – which I was delighted to find here. The fruit spectrum, as you might imagine, is evocative of the summer fruit bowl of locally grown peach and nectarine. Due to the high level of mouthwatering natural acidity – the Paringa Chardonnay undergoes 100% malolactic fermentation. A serious and stunning white wine.  Will most likely be drinking very nicely in 10 – 15 years. C.D.P  – $80.
Peninsula Pinot Noir – 2018
Straightforward, with strawberry and red fruits to the fore. Well balanced, light bodied, and yet to build further texture and complexity over the next few years. C.D.P $29.
Estate Pinot Noir – 2011 (Back Vintage)
As many of you may be aware – 2011 was one of the coldest and wettest vintages for most of the grape growing regions on the eastern seaboard – including the Mornington Peninsula (It was however one of the best vintages recorded in the West Australian region of Margaret River).
This is an immensely interesting wine to taste- as you can consider the difficulties the growers suffered during this time – and the skills needed to save the vintage – and make some decent wine.
This older Pinot' is light bodied & lovely. The colour shows a fragile, autumnal hue – which most red wine  drinkers would find challenging.  The palate however shows no under ripe / green capsicum notes. Rather, it has a welcome basket of red spices, while being meaty and savoury due to time in bottle. Not for everyone, but a triumph for what can be achieve in the vineyard and winery in a wet and cold year. C.D.P $65.
Estate Pinot Noir – 2016
Cherry and spice.The palate is well structured, with good palate weight. medium bodied with a 'fleshy' texture. Expressive of a very good vintage. In the winery, 38% of new French oak was used. C.D.P $65
The Paringa Pinot Noir  (Single Vineyard) – 2017
This single vineyard wine has such a consistent record, that it is classified as 'Excellent' in the 'Langton's Classification of Australian Wines'. I was struck with how this wine builds gradually on the palate. Medium bodied, but elegant and long. Very complex. The well earned prestige and collectability of this wine has contributed to the upward price bump. C.D.P $100.
Peninsula Shiraz – 2017
There is a welcome whiff of cool climate pepper. I have found this in many 2017 Shiraz/Syrah  from the Mornington Peninsula and Yarra Valley. The 2018 vintage being warmer – does not show as much 'pepperiness'.
This wine was co – fermented with 5% Viognier, a technique that emanates from the Northern Rhone. Used correctly and it adds softness to the palate, and a sheen to the colour. Used incorrectly, and the Viognier can make Shiraz smell of apricots, and make the palate too soft or flabby. Happy to report that the Viognier is hardly even noticable –  just as it should be. The tannins are still quite pronounced – the wine will soften and become more complete with a few years in the cellar. C.D.P $29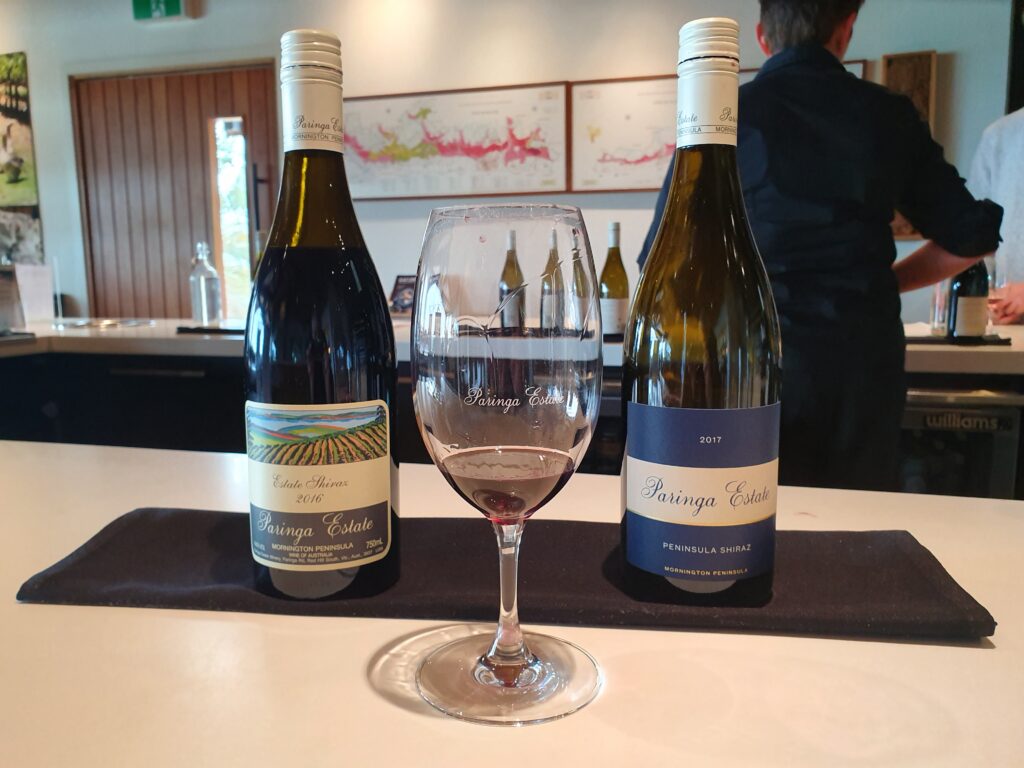 Estate Shiraz – 2016
Blackberry and a hint of pepper make a great combination at the start. Given 18 months in French oak (28% new), the fine grained tannins will  integrate in time. This wine would be lovely now with a seared lamb chop, as the protein and fat would tame and soften the tannins. Will continue to build complexity over many years. C.D.P $50
The Paringa Shiraz (Single Vineyard) – 2018
The vines here are 35 years old. Interestingly, the oak regime has been trimmed from 50% new, down to 40% new French oak. This allows the fruit to be more expressive of the vintage – without being unduly influenced by the oak.
There  are enticing aromas of  blackberry and liquorice. The tannins are still quite grippy, as you would expect for wine with this power and length. The oak integration is seamless – I would love to reacquaint myself with this wine in 10 – 15 years. C.D.P $80
* Burgundian in style refers to  – where each small producer makes their own small amount of wine – perhaps helping out some of the other locals as well, but never mass producing.
I hope you enjoyed the review – and would love to take you on a Perfect Day Tour  to Paringa Estate for a wonderful cellar door experience – or perhaps dinner in the restaurant?