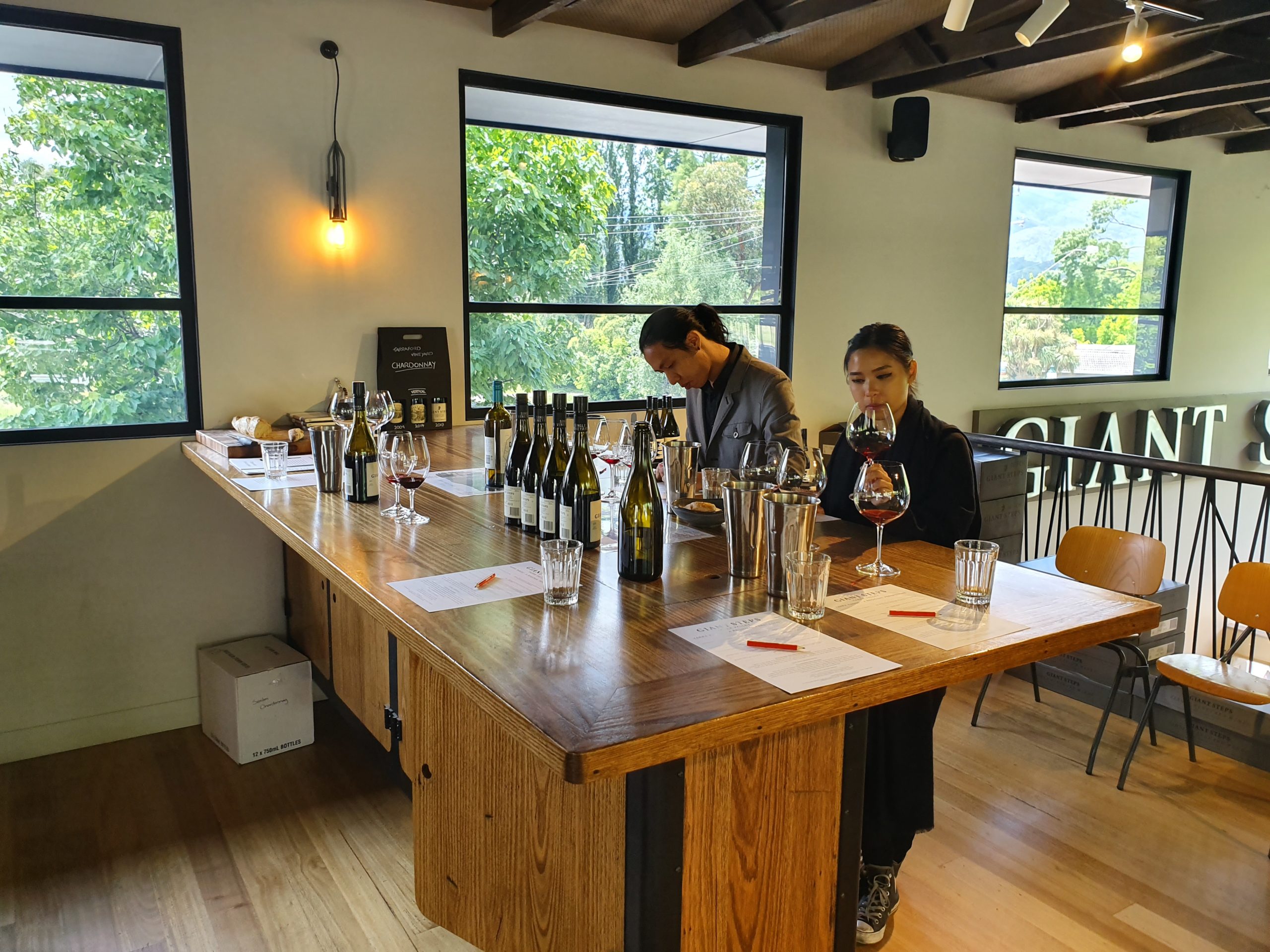 I was delighted to finally get the opportunity to partake in a masterclass tasting at the recently relocated Giant Steps tasting room on 9th of December 2019. The new venue is above Habituel Bakery 314 Maroondah Hwy, Healsville, Yarra Valley.
I have been taking small groups for visits with PDT – but hadn't yet had the chance for a personal tasting. Finally I had time the to visit on a day off!
This impressively appointed tasting room is merely a 'pop up' destination, as long term there will be a purpose built tasting room at the iconic Sexton Vineyard, Gruyere. They have good neighbours, with the iconic vineyards of Yarra Yering to the west.
The house style, if you like, of Giant Steps has traditionally involved using 20% new French oak, and 80% older French oak for the single vineyard Chardonnays. The single vineyard Pinots, however, generally range between 8% and 25% new wood – depending on vineyard and vintage. This high percentage of older oak is to allow  the pure fruit of the vineyard to be expressed –  without a heavy oak influence on flavour and aroma.
The Yarra Valley range (estate blend), is wound back another notch – with only 10% new, and 90% older barrels. Once again – the aim is to let the pristine fruit do the talking. It also makes great economic sense – as the cost of new French barrels can be upward of $1200 a piece. Happily, this helps to keep the cost of the Yarra Valley range pretty sharp.
Tasting Notes.
2018 Tarraford Vineyard Chardonnay.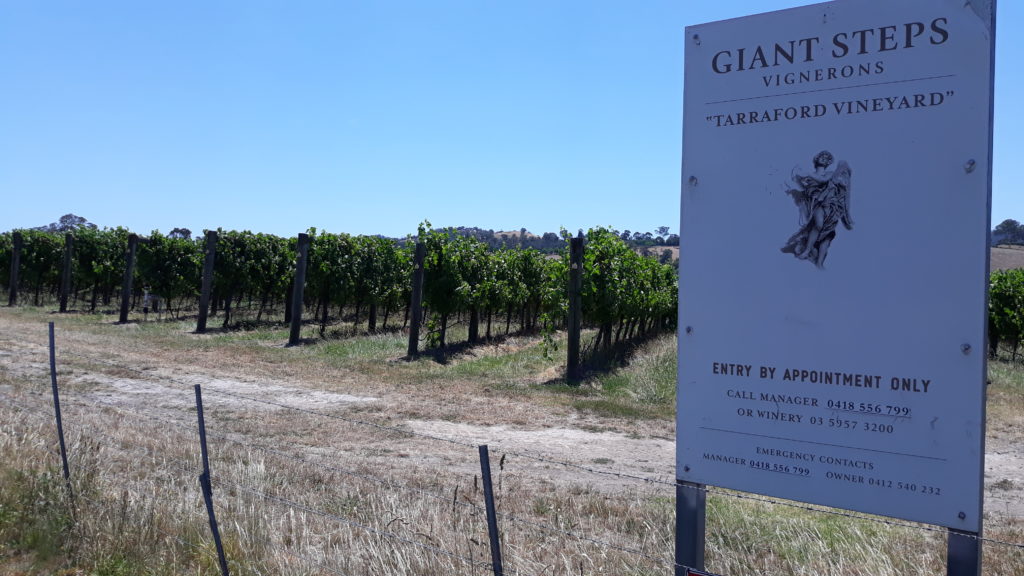 Stonefruit and greengage  – good length. Very nice drive on the back palate. Will continue to evolve and reveal buried treasures with patience and time. Cellar Door – $50.
2018 Wombat Creek Vineyard Chardonnay.
New season Granny Smith apple aromas – flowing onto the palate. Bracing fresh acidity from the cooler climate vineyard (450m above sea level). The Wombat Creek vineyard has the cooling influence of a rain forest to the south east.It reminds me of what the Chablis producers might describe as "a little bit cripsy". Delicious. Cellar Door – $50.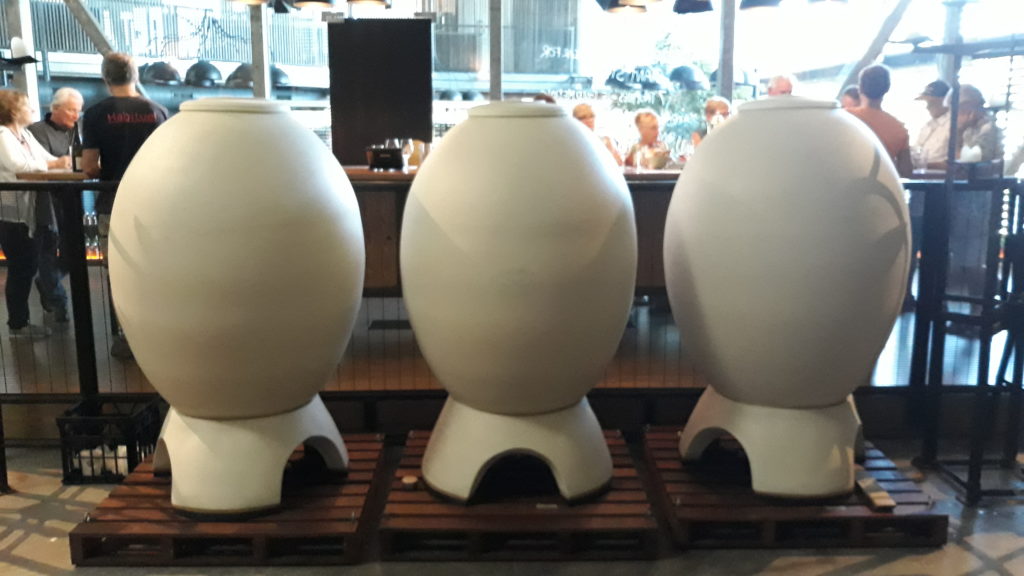 2019 'Ocarina' Chardonnay.
Just released. No Oak is used in the production or maturation of the Ocarina Chardonnay. The wine is instead matured in beautiful looking, egg shaped clay vessels.  The wine is unfiltered, and as such, has a slight haziness. The wine has a complex character, due in part to yeasty, leesy notes (think yoghurt soft, fresh cheese), as the wine gently circulates on the lees in the  clay ocarinas. Back to the future – as wine was made over 1000 years ago. Happily now  without any spoilage bacteria. Delicious and complex. Cellar Door – $60.
2018 Sexton Vineyard Pinot Noir.
Perfumed with a lift of red fruits. Medium bodied with a gentle fresh finish, complimented by fine tannins. I notice that I have also written 'Wow!' in my tasting notes on the day. I think that translates as 'Really Good'.  Cellar Door – $60.
2018 Applejack Vineyard Pinot Noir.
More full bodied than the Sexton. Dark cherry, with lovely mid palate richness. A touch of bacon fat / charcuterie at the finish. Cellar Door – $60.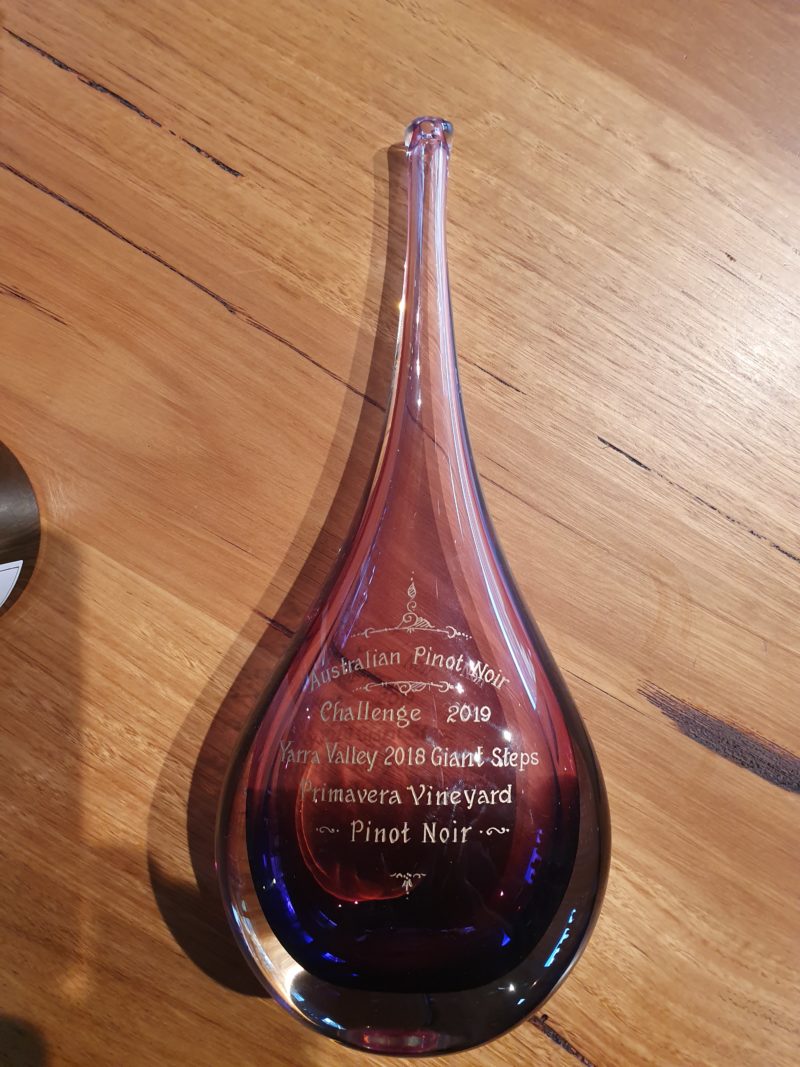 2018 Primavera Vineyard Pinot Noir.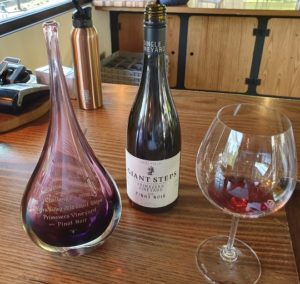 Absolutely beautiful fruit on the nose. Dark cherry and complex alluring notes – the wine whispers "Come drink me." Medium bodied with great length, that unfolds with velvety tannins. Demure and delicate with poise and presence. Wow. All MV6 clones. Captivating and delicious. Cellar Door – $60.
As well as a worthy winner of the 2019 Australian Pinot Noir Challenge, it may well be a serious contender for the Inaugural  Perfect Day Tours 'Wine of the Year'. I'll keep you posted.
2018 Tarraford Vineyard Syrah.
An exemplar of the New World Syrah style. Arising from a warmer vintage, there is less of the classical cool climate white pepper notes on the nose. There is however perfectly ripened, bright dark fruits, still retaining natural acidity. The medium bodied palate shows delicacy, with fine grained tannins that are soft yet persistent. The olderFrench oak gently frames the wine, allowing a soft complexity, but never dominating. Bargain Alert! Cellar Door – $50.
2018 Known Pleasures Mclaren Vale Shiraz.
Emanating from a vineyard in the Southern Mclaren Vale region of South Australia – to  which Giant Steps have exclusive access.
O.K. So this really highlights the stylistic differences between Syrah and Shiraz! This is a wine that your 'Big Red' lover will appreciate. A distinct and clever counterpoint to the  cooler Yarra Valley style.  Medium to full bodied, with ripe dark fruits, and coffee/ chocolatey notes on the soft finish. Cellar Door –  $60.
2018 Harry's Monster – Sexton Vineyard Red Blend.
A brilliant  Bordeaux 'Claret' style. Predominantly Merlot this vintage, with Cabernet Sauvignon and Petite Verdot helping the team to shine. Stories abound regarding the 'Harry's Monster' reference. Some refer to it as a way of keeping young'uns out of the vineyards. The story I am more comfortable with, is the crayon drawing that featured on the label of the very first Harry's Monster. It was drawn at the time by 3 year old Harry, son of Giant Step's owner and founder Phil Sexton. When asked about the drawing, Harry replied that it was a monster. I think that first vintage was in the early 2000's.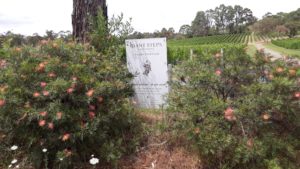 The elements of this wine are sourced form the prestigious Sexton's Vineyard in Gruyere, Yarra Valley. This picturesque site will in time become the cellar door and 'experience centre' of Giant Steps. It looks to be a visionary step forward from this progressive company.
Harry's Monster is all lovely things to connoisseurs  of Bordeaux style blends. Aromas of subtle blackcurrant, Harry's Monster is well chiselled and aristocratic. Not a silken hair out of place. Medium bodied with definitive length. Polished fine grained tannins to finish. A shining example of how elegant Yarra Valley 'Bordeaux style' blends can be. CDP – $55.
I would love to take you and a few well chosen friends, on a Perfect Day Tour to explore the charms of Giant Steps & the Yarra Valley.
To find out more about Giant Steps – Yarra Valley, just click on the link below.