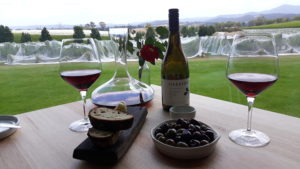 I was lucky enough  to recently have shared an anniversary lunch with my wife at Oakridge Estate, Yarra Valley.
I often take my lucky customers to Oakridge, but have never 'wined and dined' there myself. More on the food later – but here is a tasting note on the wine we chose to accompany our lunch.
Oakridge  Henk's Vineyard Pionot Noir  – 2016
I have a firm view that the 'Local Vineyard Series' is where the best value lies in the Oakridge Range. It is a delight to find single vineyard wines from diverse sites in the Yarra Valley – and the yineyards  can  vary from year to year. Always expressive of site and vintage.
The Henk's Local Vineyard Series Pinot Noir –  2016 is a joy to drink now. our friendly waitress was only too happy to decant the wine for us, which really helped the wine to show its charm straight off the bat.
The Henk's Vineyard is in the cooler, Upper Yarra area, much more suitable for quality Pinot Noir than on the Valley floor. The 2016 vintage was warm and dry, which really gets our  ducks in a row here –  (Mmm…Duck & Pinot….).
The Henk's Pinot already displays an alluring aroma of perfectly ripe, juicy dark cherries. I was delighted to find that the palate already shows a silky, almost plush integration. There is a perfectly balanced lick of fresh acidity on the back palate, that creeps up in an subtle, unhurried way.Just the ticket to tidy things up before your next delicious mouthful of food. The wine is medium bodied in style, with good length.
1oo% whole berry fermentation, with 10 months in French oak. The oak is deftly handled, supporting, rather than influencing the beautiful quality fruit.
Delicious now – it would most likely unfold many hidden charms over the next 10 years.
Although the 2017 has just been released – there is still stock available of this vintage at selected fine wine stores and the cellar door at Oakridge.
RRP – $42.00